Obituary for Peter Michael Klotz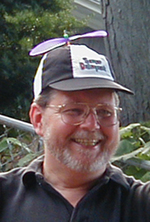 Peter Michael Klotz Born on 7/22/1951 in Neuburg an der Donau in Bavaria Germany, where he lived with his parents Joseph Ludwig Klotz, Auguste Rosina Franziska Hohl and his older sister Monika Klotz (Stegle). In 1953 Pete and his family were sponsored into the US and lived in an apartment by the NY Harbor till he reached the age of 7, when they moved to their first home in Bogota NJ followed by their second home in Teaneck NJ. Although he grew up in Teaneck, he attended and graduated Bogota High School. He spent many a summer with his family, the Bell family and Oma at his favorite vacation spot Pine Hill Lodge. Fishing for bass was always a favorite thing to do, especially when it was with his dad. He raved about how much he loved Oma's home cooked meals; and later on as a teen, he worked part time during the summer helping out in the kitchen. He always enjoyed riding his motorcycle taking in the scenery while on vacation. One time he went out for a bike ride and ended up at Woodstock. The bands were just beginning to set up, so he jumped right in to help (just like he always did). He worked with the rode's to set the stage for a concert that would be viewed by a few thousand people. For all his efforts he was treated like one of the band and had open access back stage. A favorite memory of his was waking up at 6am to the sound of Jimi Hendrix playing our national anthem to awaken the crowd to a brand new day. He also had a brief meeting with Janice Joplin as she handed him her bottle of Southern Comfort before making her way out onto the stage. And when the concert was over and thousands had left, he hung in there for the cleanup. Pete was a one of a kind guy just like his mom who is quite the one of a kind woman.
He worked as a service manager in the automobile field for many years, but always knew he was destined for better, so he went back to school and achieved an MCSE certification. He worked in NYC shortly before becoming disabled at the age of 50. On October 26, 1996 he married the love of his life Terry Lynn Potts. They spent the next 20 years in a love that most people only dream of. Pete always said the third time was a charm. They were two people who genuinely loved one another for exactly who they were: never needing to change a thing about the other. They made each other happy every moment they spent together; and yet the time they had together wasn't nearly enough. He will forever hold his spot in my heart. In September of 2015 Pete was diagnosed with ALS, just like his sister Monika who lost her life to the same disease. He knew what he was facing, he saw what his sister had endured and yet he always found a way to stay in the moment and enjoy life. He had courage. He was a well-respected member of the Sahara Club community for 25 years August 2017 and a Brother to many of Matt Talbot. It was here, where he made countless lifelong friends with people who he could rely upon for support no matter what. As a die-hard Yankee fan he watched every game he could, an interest shared by his wife. On June 11, 2017 at 10.02 AM, Peter took his last breath as God held his hand and lead him home. He is survived by his mother Gussie Klotz, niece Jennifer Petrosino, great niece's Jackie and Eva Petrosino and his beloved wife Terry Klotz. His kind heart and loving soul will be celebrated at his memorial service at 10 AM on Saturday July 22, 2017 at the Hawthorne Gospel Church in Hawthorne 2000 Rt 208 Hawthorne NJ. Arrangements by the Aloia Funeral Home, 180 Harrison Avenue, Garfield (973-340-7077).

Order Flowers
Affiliations

American

Christian Cross
The insignias listed here may be subject to copyright and / or trademarked. Those copyrights and trademarks are owned by the respective organizations.