Obituary for Hazel Elizabeth Tanzola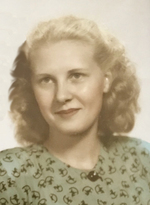 TANZOLA, Hazel Elizabeth Florence (nee Specht), age 91, of Montville, died on October 17, 2017. Born in Walbridge, Ohio, she was raised in Georgia settling in New Jersey 72 years ago. She was a quality control inspector many years at Aircraft Radio Corporation in Boonton before retiring. Hazel was loved and will be missed many. She is predeceased by her husband of 57 years, George, and her parents, Heinrich Harmann Specht and Sadie Graves Helton. She is survived by her children, George Tanzola and wife Dara (Tweed) and Matthew Tanzola and wife Rhonda (Paliga), her grandchildren, Rachel Tanzola and fiancée Neil Sullivan, Rebecca and husband Matthew Siekierka, Terri and husband Norbert Wnuk, and Jennifer Tanzola, her great-grandchildren, Matthew John Siekierka, Jr., Sadie Layne Siekierka, Declan Tanzola, Christopher Wnuk, Brogan Wnuk, Laila Tanzola, and Mia Decker, and her sister, Louella. A Memorial Mass will be celebrated at 11 am on Friday, October 20, 2017 at St. Pius X RC Church in Montville Repast to follow at George and Dara Tanzola home, 9 Dahl Drive, Montville, NJ 07045. Condolences/Directions visit aloiafuneral.com.
Order Flowers
Affiliations

American

Crucifix
The insignias listed here may be subject to copyright and / or trademarked. Those copyrights and trademarks are owned by the respective organizations.