Obituary for Miguel Antonio Shorey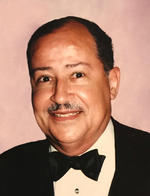 Miguel Antonio Shorey, age 76, of Park Ridge, NJ, passed away after a long battle with cancer on Tuesday, December 19, 2017. Miguel was a resident of Park Ridge for over 40 years. He was a Vietnam Veteran after serving in the army from 1964 - 1970 and was honorably discharged after reaching the level of sergeant. Miguel also retired from IBM as Human Resources Manager after serving 37 years with the company. He was a parishioner of Our Lady of Mercy R.C. Church, Park Ridge; an avid gardener; life long Jets fan; and champion bowler earning multiple trophies throughout his years playing in various leagues. His true passion was his devotion to his family though. His generous spirit, warm smile and loving, gentle way will be missed by all. Miguel was a true gentleman that always worked to maintain a professional yet caring attitude inside and out. He believed in the motto "pass it on" which he worked to instill in his children and grandchildren. Beloved husband of Gail (Smith) for 41years. Devoted father of Michael Shorey; Kimberly McKay and her fiancé, Sean Fraser; Nicole Shorey Whitlock and her husband Jeff; and Monique Shorey Foley and her husband Brian. Dear Brother of the Kennrick Stephenson; Cherished grandfather of Michael Shorey, Jr.; Jack, Sean, and Charlie Whitlock; and Sarah Foley; Dear great-grandfather to Katrina and Andrew Shorey. He is predeceased by his brother, Kennrick Stephenson. Memorial Mass will be 11 am on January 5, 2018 at Our Lady of Mercy R.C. Church, 2 Freemont Avenue, Park Ridge, NJ 07656. Flowers accepted at the service or donations to Fisher House (a Veterans charity) in Miguel's name: donate.fisherhouse.org. The Shorey family is in the care of the Aloia Funeral Home, 180 Harrison Avenue, Garfield (973-340-7077). Condolences/Directions visit aloiafuneral.com.
Order Flowers
Affiliations

American

Crucifix

US Army
The insignias listed here may be subject to copyright and / or trademarked. Those copyrights and trademarks are owned by the respective organizations.