Obituary for Salvatore Nipitella, Jr.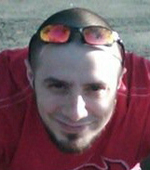 NIPITELLA, Salvatore Jr., age 36, of Chestnut Ridge, NY, died on July 26, 2013. Born and raised in Garfield for 30 years, he lived in Clifton for 1 year before settling in Chestnut Ridge 8 years ago. He was an avid mixed martial artist. He is survived by his wife of 8 years, Gina (nee Hong), a daughter, Angela, a son, Donovan, a brother, John and his wife Michelle, and a sister, Simone Nipitella. Beloved son-in-law, uncle, nephew, cousin, and friend of many. He is predeceased by his parents, Salvatore and Angela Nipitella. Visiting Sunday 2-5 pm with a 4:30 pm chapel service. Private Cremation. In lieu of flowers the family is accepting memorial donations for his children. Arrangements by the Aloia Funeral Home, 180 Harrison Ave., Garfield (973-340-7077). Condolences/Directions visit aloiafuneral.com
Order Flowers
Affiliations

American

Crucifix
The insignias listed here may be subject to copyright and / or trademarked. Those copyrights and trademarks are owned by the respective organizations.
Life Story for Salvatore Nipitella, Jr.
NIPITELLA, Salvatore Jr., age 36, of Chestnut Ridge, NY, died on July 26, 2013. Born and raised in Garfield for 30 years, he lived in Clifton for 1 year before settling in Chestnut Ridge 8 years ago. He was an avid mixed martial artist. He is survived by his wife of 8 years, Gina (nee Hong), a daughter, Angela, a son, Donovan, a brother, John and his wife Michelle, and a sister, Simone Nipitella. Beloved son-in-law, uncle, nephew, cousin, and friend of many. He is predeceased by his parents, Salvatore and Angela Nipitella. Visiting Sunday 2-5 pm with a 4:30 pm chapel service. Private Cremation. In lieu of flowers the family is accepting memorial donations for his children. Arrangements by the Aloia Funeral Home, 180 Harrison Ave., Garfield (973-340-7077). Condolences/Directions visit aloiafuneral.com